THE OFFICIAL ONLINE HOME OF
THE MIRACLE LEAGUE OF PENSACOLA
Our fundraising events provide a major source of income for our league. No child is ever turned down, no matter their circumstance, and our fundraisers help provide children with learning, physical or other disabilities the opportunity to play baseball. Our fundraising events also help to cover the overhead of maintaining our beautiful facility. Everything we do, we do for the children!
Any contribution you make to The Miracle League of Pensacola is tax deductible as a charitable donation.
Sporting Clay Shoot
Saturday June 3, 2023
Santa Rosa Shooting Center
6950 Quintette Road, Pace, FL 32571
Schedule of Events:
Check-In Starts 7:30am
Safety Brief 8:30am
Shooting Starts 9:00am
Deadline to register is June 1, 2023
$500 per team – 4 person teams
Top Shooter wins an annual membership to Santa Rosa Shooting Center
More Top Prizes, Raffle Items, and Door Prizes!
Ammunition will be available for purchase the day of the shoot OR you can bring your own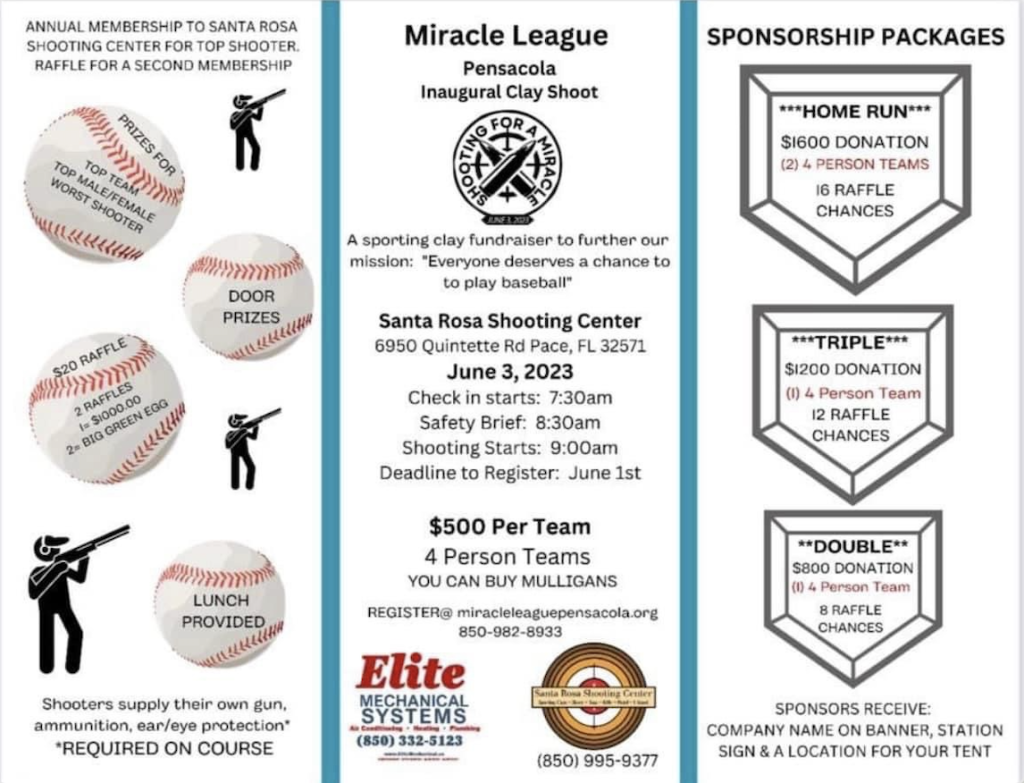 ANNUAL TURKEY FRY
WEDNESDAY, NOVEMBER 23, 2022
SUPPORT MIRACLE LEAGUE OF PENSACOLA'S THANKSGIVING FUNDRAISER
Date: NOVEMBER 23, 2022   
Time: 7:00 am – 4:00 pm only
LOCATION: 555 East Nine Mile Road
John R. Jones Sports Complex/ Miracle League Fields
(East End of Park, Nine Mile Road and Airway)
To have your turkey fried by Miracle League, you MUST do all of the following BEFORE arriving at Miracle League Park:
100% DEFROST and CLEAN

the turkey and remove inside packing. If this is not done prior to arriving at the park we WILL NOT be able to fry your turkey due to time constraints

AND

for the safety of the volunteers.
KNOW the WEIGHT of your turkey.
Be on time for your appointment.
A minimum donation of $30

PER

TURKEY (including turkey breasts) is necessary to help cover our cost and additional donations will benefit the Miracle League of Pensacola.

A charge of $35 is due for turkeys of 20 pounds or more

.
PLEASE CALL AND MAKE YOUR RESERVATIONS EARLY AS WE ARE LIMITING THE NUMBER OF TURKEYS WE FRY EACH YEAR! Walk-ups are welcome, however, scheduled appointments will take priority. 
TO MAKE YOUR APPOINTMENT or for more information CALL
850-860-3211
. If no answer, please leave a name and number where you can be contacted.  

2nd Annual MLP Scramble Registration
Date: October 22, 2022     
Registration: 7:30am     
Shotgun Start: 8:30am
Scenic Hills Country Club
8891 Burning Tree Road
Pensacola, FL 32514
Please click below to register for the tournament. Individual Golfer: $100; 4-Player Team: $400
Help support the Miracle League of Pensacola by making a tax-deductible donation.